BIO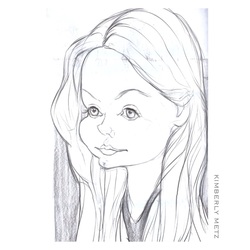 Kimberly is very experienced with a fierce sense of versatility coupled with a playful wit and humanitarian spirit shining through as she is one of those select few female photographers that can accomplish any style or lighting desirable . In the 10th grade, she was taught by her photo teacher, Mr. Dickerson, to shoot with a Pentax that was a gift from her musician father and he required she learn to shoot the 8mm motion camera as well as the latest b&w printing techniques.

A California native, raised a block from the ocean in Pismo Beach and North Hollywood, at five years old, her parents split so her mother took two jobs which sparked her determination and dedicated artistic spirit. Both her Grandmother and Great Grandmother were painters and she often drew bold designs as a child. After being in front of the camera acting and modeling everywhere from LA to NYC to Paris, she knows the creative process is a team effort and each individual artist will alter the works. Previously experiencing the feeling as the subject having traveled the world, exposed to different cultures and challenges, she returned to her ultimate creative passion behind the lens. With the explosion of digital, she pre-tested PHASE ONE H20/H25 large format backs on her Mamiya RZ 6x7 beginning in 2001 and the quality surpasses most 35mm digital cameras today. She and her crew provide optional video, editing, retouching, composting, graphics and layout in-house. Her quick thinking and ability to work well in a team under pressure is an asset to any production. She's been described as a workhorse, detail orientated and a quick witted thinker which makes shoots fun. Not to mention, boy can she make a mean margarita and homemade popcorn is number one! Her work has appeared in every major magazine from Vogue to Wallpaper. Don't be fooled by thinking inside the box, she can accomplish any type of image you challenge her to shoot with a smile even if you don't see it in her current portfolio, she has shot everything in her huge repertoire. One of her favorite shoots was shooting swimwear in Costa Careyes Mexico and Kauai. She LOVES to shoot both location and studio equally.
---
---
Testimonials

"
The photos are amazing! Your work is quite i
ncredible! It was great working with you and your crew. It was a really fun and smooth day all around" -JS swimwear
"Looks dope
!!" -
Elizabeth Berg of PHASES
"
Kimberly is such an AMAZING and talented photographer.
" – PS Editor
"
looks amazing
"
- Former Miss NYC
"Thank you for an amazing shoot, it was truly a wonderful experience;
You have an incredible talent and did a fantastic job there were so many images to choose from!" -Kathleen E. (music publicity)
"LOVE LOVE LOVED working with you. I hope we can again soon in the future
." -
E. Watson
(
cosmetics
)
"
love love love, So great you really did a nice job!!!! We appreciate it!
" –
Outerwear Company
"Very nice shots" - Jim S. (cover + editorial)
"Sooooooo loved the shots....LOVED!" - Bryan Batt"Your the bomb, thank you so much for today and everything you rock!!" - Tyler Lepley (publicity)"We had so much fun with you, I liked your shots so much better"- Kevyn W. (magazine editorial)"You are the best photographer in the whole wide world!" -Elisabeth Rohm (publicity + magazine)"Damn who is that dude? You're good!!!!" -Laz Alonso (publicity)
"They look AWESOME!!! They are absolutely amazing Kim! Thank you so much. You made me look good!! XOXO -Amaury Nolasco
(publicity)
"
I have always loved your work
!"
-
Madeline- Cloutier Agency
"
Nice photos! I have some serious competition!" – Steve Shaw Photographer"I want our sales team to look at them and be blown away and buyers to stop at our booth because they see our amazing pictures!" -WC (ads + lookbook)
"Wow! This is by far the best catalog Alliance has ever put out" - MD for Reebok
"U killed it!"-H. Dennis (calendar)
"Once again you did an amazing job for us! We love working with you and the crew you introduced to, they are the best! you are it!"-JF (ads + online)
"I love your work, its very crisp and fresh looking"-Para Todos Magazine (magazine)
---
CONTACT:
studio@kimberlymetz.com
*INTERNSHIPS interviews twice a year-CONTACT ABOVE

---
KIMBERLY METZ PHOTOGRAPHER COPYRIGHT ©2018 All rights reserved